Vestibular Technologies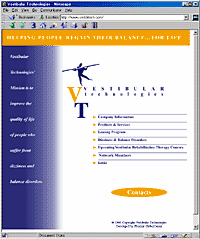 Design Goals
Create a navigatable interface that mirrors the corporate literature already designed. A menu system was created and implemented within the existing look and feel.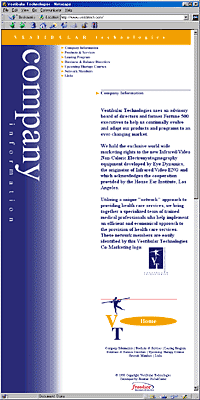 Technology Implemented
Products and Services are available through the website via secured areas of the website. Current and past clients get access to this section with a password distributed by Vestibular Technologies. Custom cgi scripts were created to allow the client to add member doctors to the appropriate state directory within the site for visitors to look up at their convenience.

Terms of Development
The design was developed while part of the Frontier GlobalCenter design team. Vestibular Technologies continues to work closely with the Transcendent WebMedia team for all of their Internet needs.