Hoodlums Music
www.hoodlumsmusic.com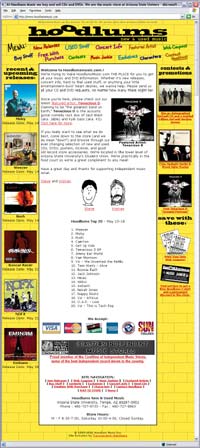 Design Goals
Hoodlums Music is a small music store located on the campus of Arizona State University. They have a captured campus audience they communicate intimately with through campus newsletters and billboards. The website's goal is to keep local visitors in touch with the store while reaching out to the Internet as they move towards selling online.

Technology Implemented
PHP and SQL databases allow Hoodlums management to update key sections of text, upload cover art and keep the site fresh and up to date.

Terms of Development
Transcendent WebMedia designed all creative, constructed all aspects of the site and continues to perform maintenance and regular updates on the site.