Chapman Chevrolet and Isuzu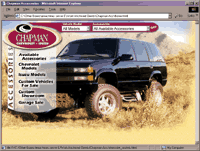 Design Goals
Chapman Chevrolet and Isuzu was looking to create a completely separate site to sell specialty parts and accessories over the Internet.


Technology Implemented
The site was to have a custom secure store created with thousands of online accessories.

Terms of Development
Transcendent WebMedia was contracted to design and develop the site though it was never completed due to Chapman Chevrolet eliminated their separate accessories department.